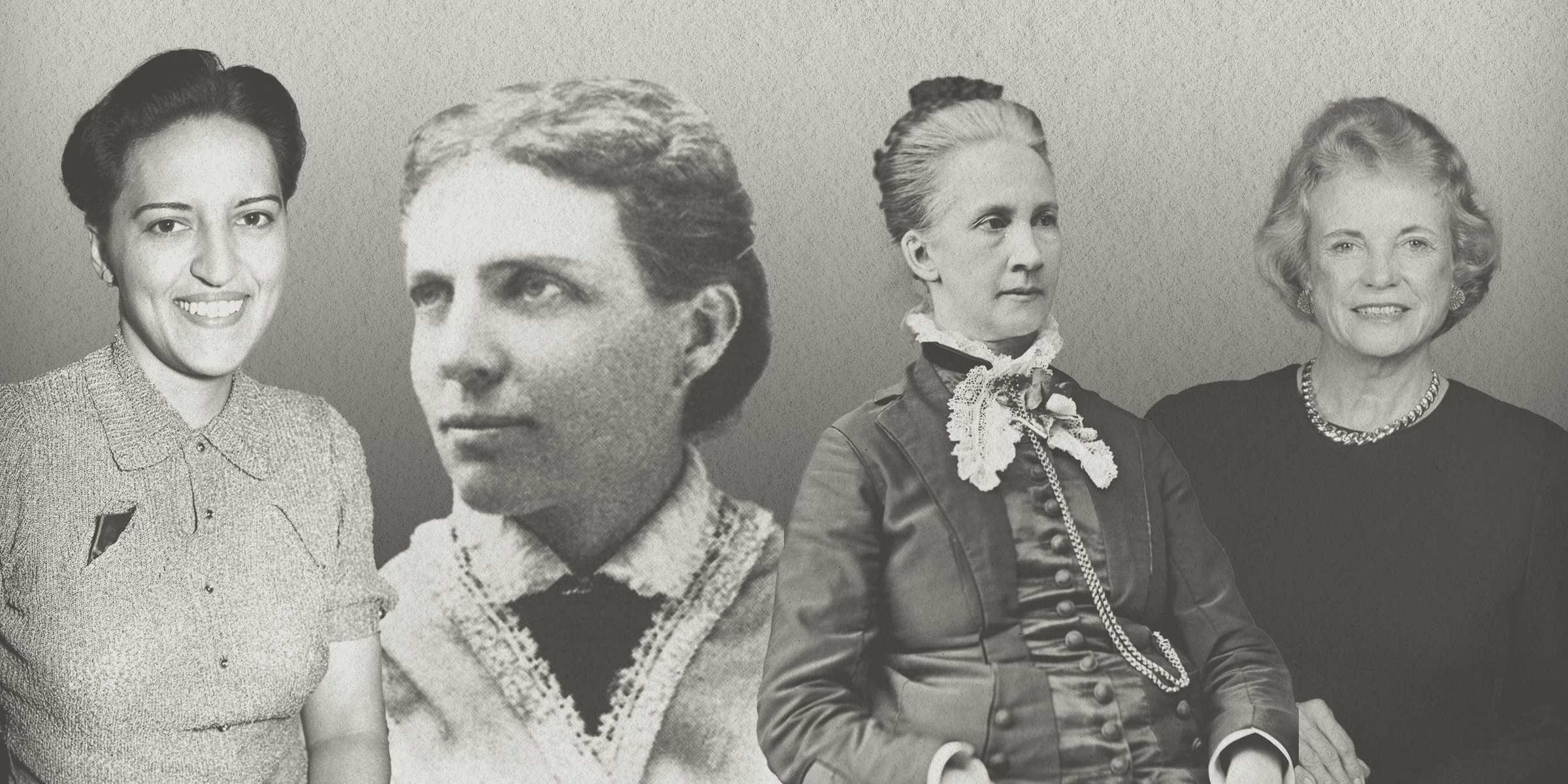 March is Women's History Month, a time not only to look forward and envision a more equal world for the women that will come after us but also to remember the women that came before us and made it possible for women to be active members of the legal community.
When I was in law school, it wasn't uncommon to see women in the legal profession. Many of my professors were women, my classes had a relatively even ratio of women and men, and I interned under a female judge and female attorneys. Now, at Rasmussen Dickey Moore, I work in an office primarily made up of women. I don't often pause to think back to a time when it was uncommon, or even prohibited, to be a female paralegal, lawyer, law professor, or judge.
However, many women have fought hard to gain a foothold in the legal profession, blazing a trail that provided an opportunity for my peers and me to pursue careers as attorneys and other legal professionals. We still have much work ahead of us to achieve true equity in the field, but several tenacious and undaunted women made great strides that allowed future generations like mine to enter the profession and make our mark.
Arabella Mansfield
Arabella Babb Mansfield was the first woman to pass the bar exam and be admitted to practice law, despite an Iowa state law that limited the practice to white males. Mansfield studied law for two years at her brother's law office before taking the Iowa bar exam in 1869. She passed with high scores and went on to challenge the law that restricted women from the legal field. Mansfield was successful, and Iowa became the first state in the Union to allow women to practice law. Later in life, Mansfield would go on to be a leader in the women's suffrage movement.
The National Association of Women Lawyers' most prestigious award is named for Mansfield, as is the Mansfield Rule, an effort to boost underrepresented groups into leadership positions at over 100 of the nation's largest law firms.
Belva Ann Lockwood
Belva Ann Bennett Lockwood studied at the National University Law School in Washington, D.C., completing her studies in 1870. However, the school refused to issue a diploma to her and another aspiring female attorney. Undeterred, Lockwood appealed all the way up to President Ulysses Grant, who promptly ordered that she receive her earned diploma.
After attempting to be admitted to the Supreme Court bar in 1876, Lockwood continued to battle for equal rights for women attorneys. President Rutherford B. Hayes signed a law in 1879 that allowed women to become members of the Supreme Court bar. In 1880, Lockwood became the first female lawyer to argue a case before the U.S. Supreme Court, arguing Kaiser v. Stickney. Lockwood would return to argue before the Supreme Court in United States v. Cherokee Nation, in which she successfully secured a payment of $1 million plus $4 million in interest—one of the largest judgments in favor of a Native American tribe at the time—for an unfulfilled treaty ceding Cherokee land in Georgia to the U.S.
Lockwood became heavily involved in politics in subsequent years, working towards women's suffrage, world peace and disarmament, and other progressive causes. She also became the first woman to run for United States president in 1884, decades before the right for women to vote had been secured.
Jane Bolin
During her early years, Jane Bolin was discouraged by a career advisor at her undergraduate institution from applying to Yale Law School due to her race and gender. Nevertheless, Bolin went on to become the first Black woman to obtain a Juris Doctorate from Yale in 1931.
In 1939, she broke another glass ceiling when she became the first Black woman to serve as a judge—and for 20 years, she would remain the only Black female judge in the United States.
Judge Bolin served four 10-year terms on the bench of the New York City Domestic Relations Court (now known as Family Court) and was noted for working to reform skin-color-based assignments for probation officers and end segregation in child placement facilities, pursuing her goal of demonstrating "a broad sympathy for human suffering." Both in and out of the courtroom, Bolin worked tirelessly for civil rights and children's education.
Sandra Day O'Connor
Sandra Day O'Connor eventually rose to the top of the profession, but her early years were met with discrimination not uncommon for the time. After graduating from Stanford Law School in 1952, O'Connor was unable to find a job as a lawyer due to her gender. The only job offer she received was as a legal secretary at a Los Angeles-based firm.
Despite this, she went on to be a deputy county attorney, state senator, trial judge, and federal judge before becoming the first female Supreme Court Justice in 1981 after near-unanimous (99 yes votes and one absence) confirmation by the Senate. Her tenure on the Court would last almost 25 years.
Pursuing Equality for Women in the Legal Profession
Despite the strides that women have made throughout history, we still have work to do to achieve true equality in the legal profession. According to the American Bar Association, 2014 was the first year that female-identifying first-year law students outnumbered male-identifying first-year law students. By 2022, women accounted for over 55% of all students in ABA-approved law schools.
But while more women are entering law school, the number of women working as lawyers still lags behind. In 1980, just 8% of all lawyers were women. That figure rose to 20% in 1991, 29% in 2000, and now sits at 38% in 2022. Furthermore, women are vastly underrepresented in leadership positions in the legal field. Just 23% of equity partners and 30% of federal judges were women in 2022.
While the legal profession inches toward equality, it is the duty of every attorney, judge, and legal professional to do their part. It is exciting to see the ranks of law students and lawyers becoming more representative every year. And momentous events such as the appointment of Justice Ketanji Brown Jackson to the Supreme Court provide hope and inspiration for younger generations of women.
However, these advances require thoughtful and deliberate action. At RDM, our commitment to diversity, equity, and inclusion provides mentorship and opportunities to lift the voices of young female attorneys as we develop a future generation of leaders. Everyone can take these measures—listen to young and diverse voices and help them prepare to take the lead. Be a part of history in the making.
Photos Wikimedia Commons.