At the end of 2021, two outstanding Rasmussen Dickey Moore associates were named members of the firm. We're proud to welcome Travis Pour and Brandon Powell as new partners in our St. Louis office!
"We're excited that our firm is growing," says Nate Lindsey, member attorney in the St. Louis office. "And that includes promoting new leaders and partners like Brandon and Travis."
Both Travis and Brandon joined our St. Louis office as associate attorneys in 2018. Their work focuses on toxic torts, products liability defense, and insurance defense, though they also have experience in business law, environmental law, and other fields.
"I am very pleased to have Travis and Brandon joining the partnership at RDM," says Bryan Skelton, another St. Louis-based member attorney. "I have worked with Travis since 2013 and with Brandon since 2017. They have been a very significant part of my team from the beginning. They are both excellent attorneys who will serve our clients well into the future. I am looking forward to working with them for many years to come."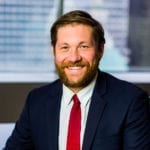 Travis Pour
Travis received a Bachelor of Science in Construction Engineering from Purdue University and attended law school at Southern Illinois University School of Law in Carbondale, obtaining his Juris Doctor in 2013. With a background in construction engineering, Travis focuses his practice in areas that he has hands-on experience with, defending corporate clients in the construction industry.
"I am honored to be named a partner and I am looking forward to being a part of Rasmussen Dickey Moore's growth and success."
Travis and his wife, Katie, find themselves chasing their 18-month-old son, Jude, in their free time. Away from the office and home, Travis helps out at his family's winery, The Pour Vineyard, in Red Bud, Illinois.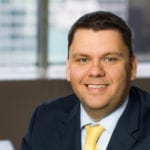 Brandon Powell
Brandon is also a 2013 SIU School of Law alum, graduating summa cum laude, while also serving as editor-in-chief of his law journal and member of the school's moot court board. Prior to law school, Brandon received his bachelor's degree in economics from the University of Evansville in Indiana.
Following a term as a judicial extern for Illinois Supreme Court Justice Lloyd Karmeier in 2013, Brandon began his practice in Evansville, representing corporate clients in a variety of complex litigation matters. He has extensive trial and appellate experience, both in state and federal courts.
"My entire legal career has been focused on litigation, and I am extremely excited to continue to work with the group of tenacious, detail-oriented litigators at RDM."
Brandon and his wife, Jennifer, are parents to three boys, including twins born in November of 2021. They reside in O'Fallon, IL