Rasmussen Dickey Moore member attorney Nate Lindsey recently participated in the kickoff event for the first outdoor futsal court in St. Louis. As part of his work with Dutchtown Main Streets, a volunteer-run community development non-profit, Nate teamed up with the organization's subcommittee Allies of Marquette Park to usher in a new era of soccer to Marquette. Nate organized and collaborated with St. Louis CITY SC, the St. Louis Parks Department, and a host of private donors, community organizations, and contractors to have the futsal court installed at Marquette Park.
You always show up, STL 💪

The new Futsal Court at Marquette Park in @dutchtownstl is the perfect example of what our local community and #STLMade artists like Jayvn Solomon can accomplish when we all work together – and it's only the beginning. #OurCITYOurSpirit pic.twitter.com/vohCLOzg5E— St. Louis CITY SC (@stlCITYsc) September 29, 2021
Futsal is a scaled-down version of soccer played on a hard surface. This up-and-coming game is great for beginners and seasoned soccer players alike, providing an opportunity to hone skills in a fast-paced game that requires fewer players and less space than a traditional soccer game.
Dutchtown is one of the densest, youngest, and most diverse neighborhoods in St. Louis, so bringing new assets to the 17-acre park made good development sense to Nate and Dutchtown Main Streets, an organization that prides itself in making Dutchtown a place where businesses and neighbors thrive together.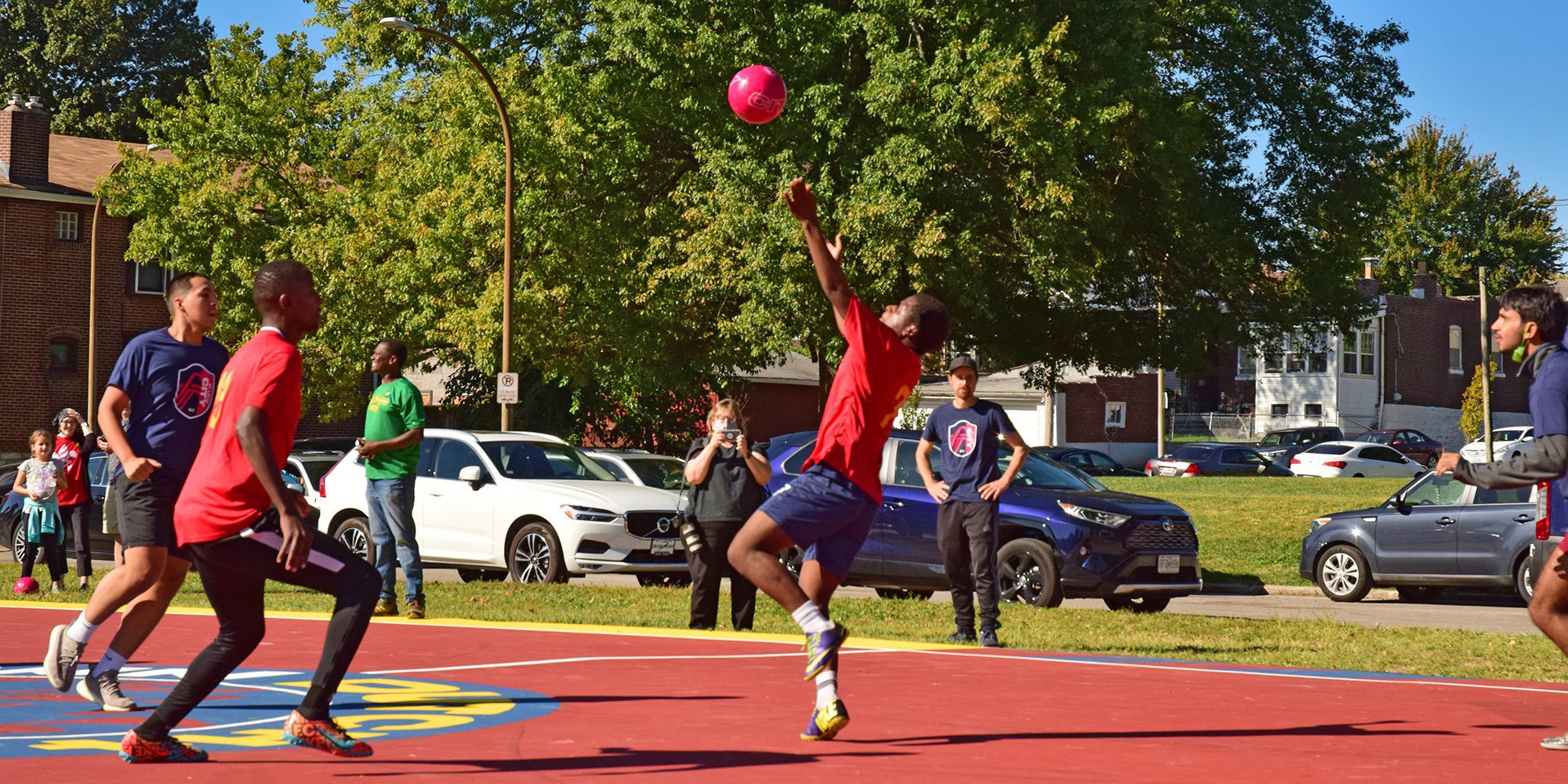 The futsal court replaced an underutilized and deteriorating asphalt volleyball court. After a fresh surface was poured, local artist Jayvn Solomon painted the court with a bright and beautiful mural with elements representing both the Dutchtown neighborhood and the city's new MLS team. MADE STL provided custom fabricated goals emblazoned with the CITY SC and Dutchtown logos and built to stand up to the elements and heavy play. The spectacular new pitch regularly draws eyes to this long-neglected corner of the park.
"The collaborative process to create this futsal court has been a lot of fun, bringing together neighbors, a local artist, and the new professional club," Nate said at the kickoff. Now that the pitch is in place, you can often find Nate at the park taking the field with neighbors for pickup futsal games.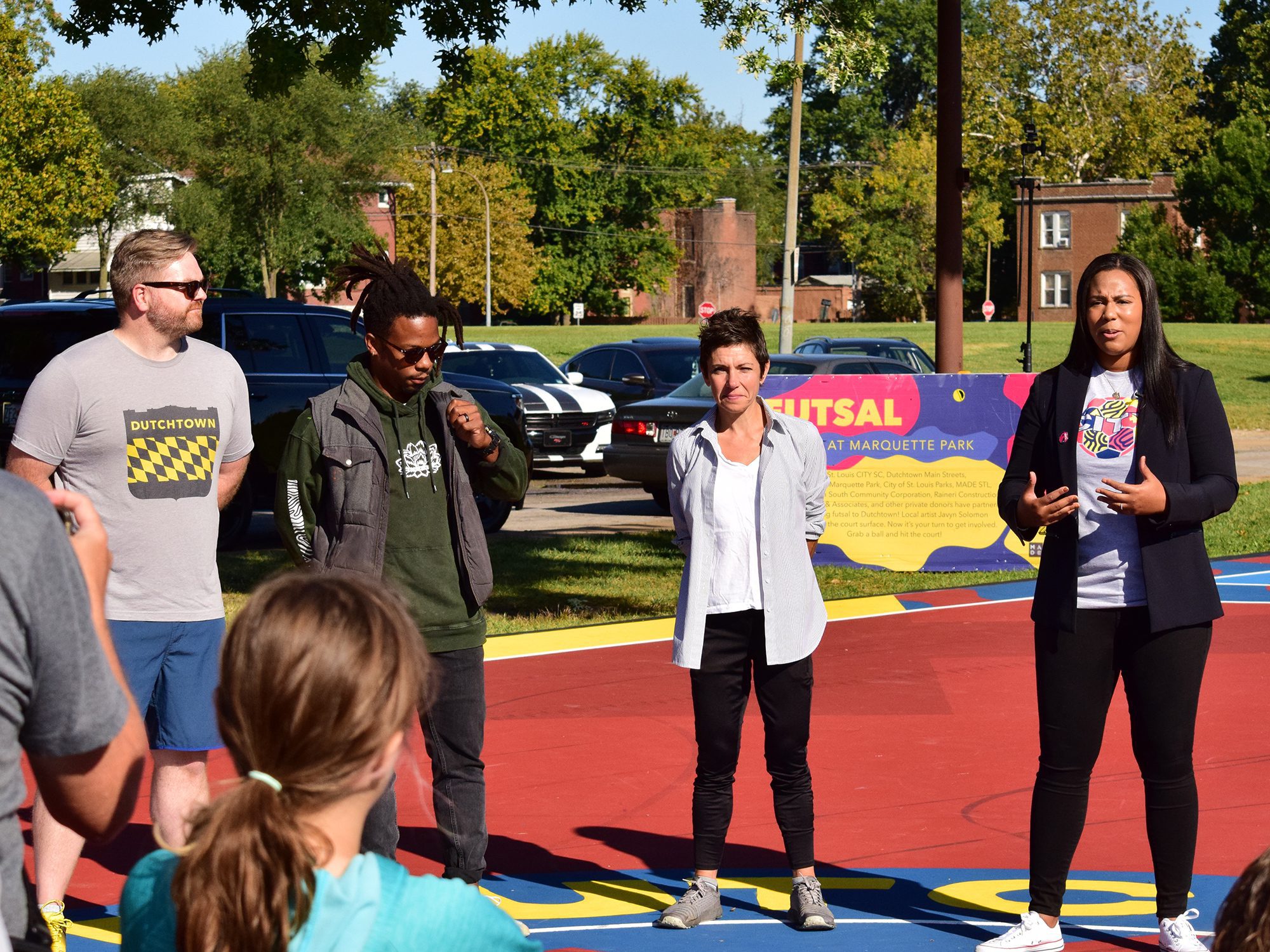 At the official kickoff on a beautiful morning in late September, Dutchtown neighbors, CITY SC coaches and staff, and soccer fans from across the region came to celebrate the opening of the first outdoor futsal court in the city. The team outfitted fans with new soccer balls and t-shirts. Youngsters took turns kicking balls on the new pitch. A local soccer club played exhibition games, demonstrating just how quick and exciting futsal can be.
As a small organization, Dutchtown Main Streets and Allies of Marquette Park rely heavily on small donors to execute their mission to restore vitality and promote places, spaces, and faces in Dutchtown. If you'd like to support this mission, you can learn more about the work here.
Nate's commitment to his neighborhood is just one example of how the attorneys and staff at Rasmussen Dickey Moore pursue service throughout the communities in which we live. You can read more stories about RDM's service to our communities here.